Opto 22 is a Dell IoT Solutions Partner

Connect industrial assets and analyze IIoT data at the edge.
Convert sensors to digital data with proven Opto 22 industrial I/O
Analyze data at the network edge with Dell Edge Gateways
Visualize data on your mobile with groov from Opto 22
Discover new digital business opportunities today
Opto 22 and Dell® have the IoT solutions you need.
Real-world electrical signals don't talk the language of computers. Connecting industrial things to Information Technology (IT) systems, cloud software, and mobile devices takes an extra step—a step Opto 22 and Dell provide with ease.
Reliable Opto 22 SNAP I/O translates the voltage and current in sensors and actuators into the digital language computers understand.
Opto 22 SNAP PACs (programable automation controllers) provide distributed control and include a RESTful API, so you can use standard IT-compatible languages to access I/O point and variable data in the PAC.
Opto 22's groov puts your systems and equipment on your mobile device so you can securely monitor and control them.
Dell takes a pragmatic approach to the Internet of Things (IoT) by building on the equipment and data you already have and leveraging your current technology investments. Dell and Opto 22 products work together to make your IoT application a reality.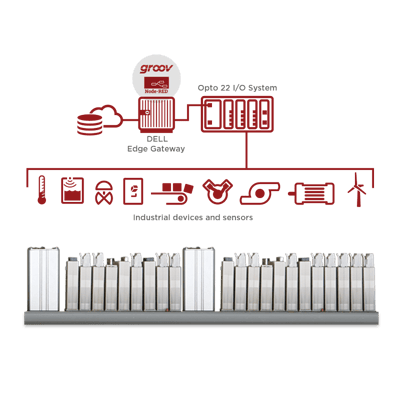 Opto 22's groov Server for Windows is qualified on the Dell Edge Gateway 5100 model, purpose-built for the IoT to provide fast, responsive data solutions in extreme conditions.
groov Server for Windows runs on the Edge Gateway, along with other software programs (like Node-RED) you may want to use for your IoT application. An Opto 22 SNAP PAC System provides distributed control and direct connections through I/O modules to real-world sensors, systems, and equipment.