Put your system on your mobile...
And leave the work to us.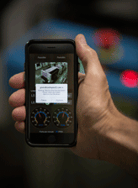 Get a simple, effective mobile operator interface—your own custom mobile app designed specifically for your automation systems and equipment—without having to build or configure it yourself.
With the groov Action Plan, you can go mobile with minimal time and effort. You get:
Expert design and development by Opto 22 engineers, based on your needs
A complete 3-page groov mobile app for your systems and equipment
Support for configuration, IT, networking, and device connectivity
Request a free half-hour consultation from an experienced Opto 22 application engineer.
Get all your questions answered and see if groov is right for you.
No obligation—
explore the possibilities!
If you're in the U.S.A. or Canada, complete the form at right.
If you're not in the U.S.A. or Canada, contact your local distributor for more information.