Opto 22 Case Study Program
Promote your successful automation application to customers and others in your industry.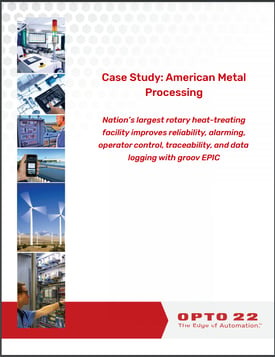 As an Opto 22 customer or integrator, you can have your project featured in a case study that offers positive exposure for your business, products, and services.
Case studies are one of the most popular forms of engineering content. While we appreciate the chance to show the quality and capability of Opto 22 products, training, and support services, for you, a case study is a way to:
Create a sales tool to gain new business

Provide a proof-of-concept to prospective customers

Share design techniques and lessons learned

Gain recognition for implementing new technologies

Document your success in automation, control, and monitoring solutions
The Opto 22 Case Study Program is free of charge. While we do the work, you're involved at the level you want to be and have final say on what's published and where.
We publish case studies routinely in the Opto 22 blog, newsletter, and social media channels, and in many print and digital trade publications. Let us know where you would like to be featured.
To submit your interest in the case study program, complete the form on the right, and an Opto 22 representative will follow up with you to answer your questions and begin the process.