Upgrade with SNAP-PAC-R1-B for B-series racks
Move up to the latest PAC and I/O without changing your rack or field wiring
Now developer and IIoT ready with a RESTful API!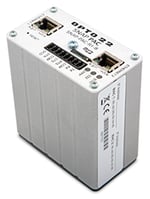 Do you have legacy SNAP Ultimate or SNAP Ethernet I/O units on B-series mounting racks?
Now you can upgrade these I/O units to SNAP PAC with the new SNAP-PAC-R1-B.
The SNAP-PAC-R1-B combines a controller and brain in one compact package. The SNAP-PAC-R1-B is exactly like a regular SNAP-PAC-R1 except that it has a blue connector on the bottom that fits on a B-series rack. That means you can:
Replace a SNAP Ultimate or SNAP Ethernet brain with the new R1-B while keeping the same rack and field wiring.
Add the newest SNAP I/O modules to your B-series rack—like 16-point digital modules, 8-channel analog input modules, additional serial communication modules, and the 8-channel multifunction SNAP-AOVA-8 analog output module.
Run a PAC Control strategy on the new R1-B or use it as a powerful brain.
Communicate directly with other systems and equipment that use EtherNet/IP (for example, Allen-Bradley® PLC systems).
Use local, removable data storage through the PAC's built-in microSD slot that takes microSDHC cards up to 32 GB.
Set up link redundancy using the R1-B's two independent Ethernet network interfaces.
Take advantage of the R1-B's integrated FPU (floating-point unit) and substantially larger battery-backed RAM.
AND:
Securely access I/O and strategy variable data using the PAC's built-in HTTP/HTTPS server and RESTful API—ideal for Industrial Internet of Things (IIoT) applications and custom programs.
Securely monitor and control your older systems and equipment from your smartphone or tablet with a groov mobile operator interface. No programming and no coding.