The Internet of Things
What is it and how does it work?
Read the primer: Your IoT Primer [pdf]
Learn the terms: IoT Glossary
For automation professionals: IoT Technical Note (SNAP PAC REST API)
For IT professionals: IoT Technical Note (SNAP PAC REST API)

Solve 3 IoT problems: Edge Computing Primer
Fog Computing vs. Edge Computing: what's the difference?


IoT-enabling technologies
groov Edge Appliance: Visualization, data handling, & connectivity in one compact industrial box
SNAP PAC Restful API resources page

Documented API: developer.opto22.com
Connect real-world industrial devices to IBM Watson IoT
Connect real-world data to an AT&T M2X device


IoT Certified OptoPartners
These partners have skills and experience in both Information Technology (IT) and automation (Operations Technology, or OT). They've successfully designed and implemented IoT applications for other customers and can help you with yours.
See IoT Certified OptoPartners.
IoT Videos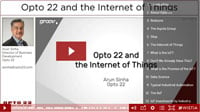 Opto 22 and the Internet of Things
Arun Sinha explains how IoT applications differ from traditional industrial automation systems and introduces IoT goals and terminology. Find out how industries are currently using IoT technologies, what the challenges are, and ways Opto 22 products can help.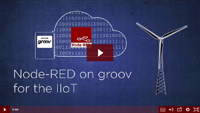 Node-RED on groov for the IIoT
Opto 22's Matt Newton walks you through connecting a temperature gauge and a wind turbine model to online services for monitoring and control—without writing any software code. See how it's done with Node-RED on the Opto 22 groov Box. (Watch for the groov mobile operator interface, too.)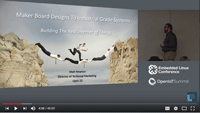 Moving from IoT to IIoT with Maker Boards, Linux, and Open-source Software Tools - Matt Newton at IoT Summit 2017
There's a huge buzz around the Internet of Things from a consumer standpoint—you can light up your BBQ when no one's home (!) or be spammed by your scale's app when you're trying to lose weight. But what's the real value of these technologies? Matt shows that it's industrial "things"—the IIoT—that hold the promise for the future.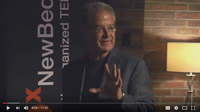 The Internet of Things is Just Getting Started - Arlen Nipper at TEDxNewBedford
Arlen Nipper has designed embedded systems for many years and explains how embedded systems differ from the Internet of Things. Although he says this is the last video you'll need about the IoT, you'll probably want to see more.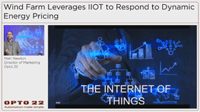 Wind Farm Leverages IIoT to Respond to Dynamic Energy Pricing - Matt Newton and SCADA Solutions at Smart Industry 2016
Opto 22's Matt Newton jokes about how valuable his refrigerator's webcam is—or not—and system integrator SCADA Solutions show how legacy industrial equipment can be brought into the IIoT to vastly increase revenue.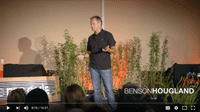 What is the Internet of Things and why should you care? - Benson Hougland at TEDxTemecula
Here's a look at the IoT from a more personal level, as Opto 22's Benson Hougland confesses he's a technology geek and talks about some valuable uses of the IoT for individuals.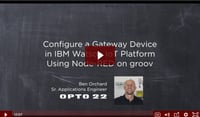 Get Real-world Data into the Cloud with IBM Watson
Opto 22 Senior Applications Engineer Ben Orchard shows you how to get started on your IoT application using Node-RED on groov and IBM Watson IoT.